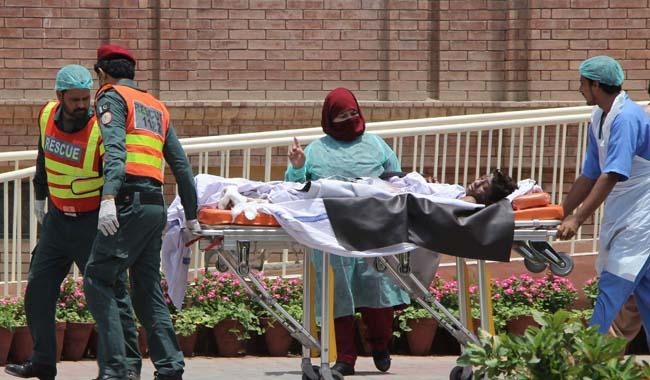 MULTAN: 52 burn victims of Bahwalpur oil tanker explosion have been shifted to different health facilities in Multan District including Pak-Italian Modern Burn Center, officials said on Sunday.
Due to high number of injured, Multan Commissioner declared emergency in the hospitals to accommodate the maximum number of victims. The injured were admitted to newly established burn unit, Nishtar Hospital, Combined Military Hospital and other health facilities.
Punjab Chief Minister Shahbaz Sahrif has also reached Bahwalpur where he inquired after the affectees. Prime Minister Nawaz Sharif has shortened his visit and reportedly will directly land here from United Kingdom on Monday.
Rescue 1122 district officer Dr Kalim told The News that more than 50 burnt victims were brought to Multan through air-ambulances. Four helicopters of Army Aviation took part in rescue operation, he added.
Dr Kalim said that more than 18 Rescue 1122 ambulances received burnt victims from Multan international airport and shifted them quickly for treatment.
An official of health department said one of the injured succumbed to the injuries, while he was being air-lifted and two others expired during treatment.
Dr. Naheed Anjum, who is in-charge of Burn Centre, said that the victims were in critical condition because they have received 60 to 70 percent burns. "We are trying our best to save their lives", he said.
Commissioner added that emergency has been imposed in all hospitals in Multan Division, while additional beds and medical officers are being provided at Burn Center and Nishtar hospital.