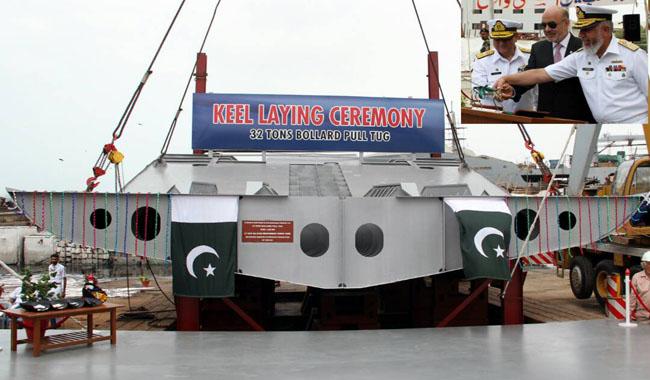 ISLAMABAD: Keel Laying ceremony of 32 Tons Bollard Pull (BP) Tug being built for Pakistan Navy was held at Karachi Shipyard & Engineering Works (KS&EW).
Lt Gen ( Rtd) Syed Muhammad Owais, Secretary, Ministry of Defence Production attended the ceremony.
Speaking on the occasion, the Chief Guest said that construction of 32 Tons BP Tug is in pursuance of the mission of MoDP towards self reliance and indigenisation in shipbuilding.
He appreciated the efforts of PN and KS&EW in playing a significant role in turning this vision into reality.
He also praised the KS&EW management and workforce which have consistently shown remarkable performance by executing all the projects on time.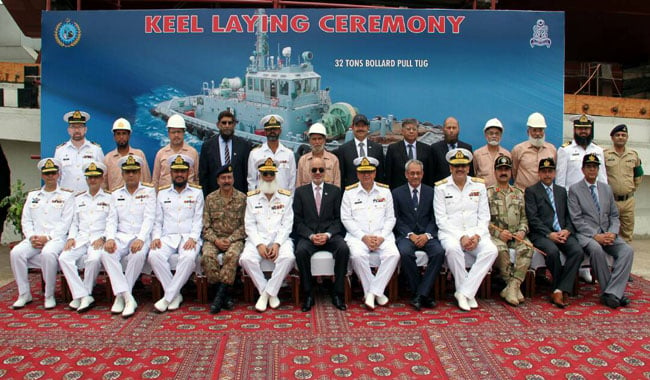 Earlier MD KS&EW, R/Adm Syed Hasan Nasir Shah in his welcome address said that today marks the keel lying of second 32 Tons BP Tug, which is part of the contract awarded by PN for the construction of two similar Tugs.
While presenting brief overview of ongoing construction projects being executed simultaneously at KS&EW, R/Adm Syed Hasan Nasir Shah added that new contracts for the construction of Offshore Patrol Vessel and Hydrographic Survey Vessel for PN, and Surveillance Boats for Pakistan Customs have also been signed during the month of June.
He also expressed his profound gratitude for Ministry of Defence Production and Pakistan Navy for their contribution in the revival of this national asset. He assured that KS&EW will leave no stone unturned in meeting the expectations of nation and Pakistan Navy.
This 32 Tons BP Tug is third of the series being built at Karachi Shipyard & Engineering Works. The ceremony was attended by high ranking officials from GoP, Pakistan Navy, corporate sector and KS&EW.