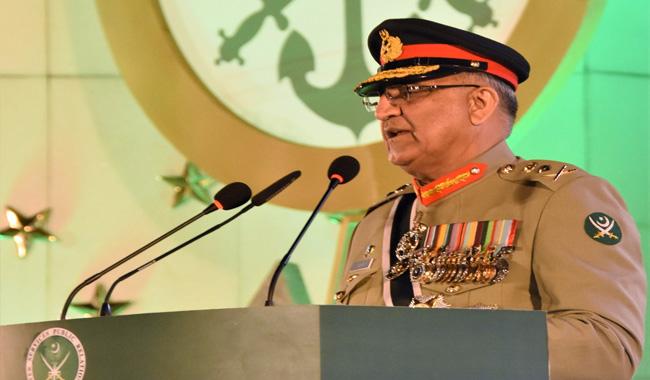 RAWALPINDI: Chief of Army Staff (COAS) Gen Qamar Javed Bajwa on Wednesday said that Pakistan has done much in war against terrorism and urged the world to do more to curb this menace. He was addressing Pakistan's 52nd Defence Day ceremony held to tribute the martyrs of the 1965 war.
While urging the world to acknowledge Pakistan's great sacrifices in war against terrorism, The COAS said, "despite all our countless sacrifice and over decades of war, we are being told that we have not done enough against terrorism."
Referring to recent allegations leveled by US President Donald Trump over Pakistan, COAS said, Pakistan's share in the war is more than any other country. He further said, "if Pakistan has not done enough in this war, then no country in the world has done anything".
While highlighting Pakistan's efforts to eradicate terrorism and to stabilize peace in the region Army chief said that only Pakistan has seen this level of success within limited resources from the operations carried out to wipe out the terrorists from its soil like Sher Dil, Rah-i-Rast, Rah-i-Nijat, Zarb-i-Azab and now Radd-ul-Fasaad. "We have paid for each inch [of gains] with our blood", said COAS.
"And now, I say that the world must do more."
In response to Trump's criticism in which he claimed that they had given "billions and billions of dollars" in aid to Pakistan, general Bajwa said that Pakistan does not want aid. He said, "we want your respect and confidence, appreciation and acknowledgement of our actions and sacrifices ."
"We will encourage actions by America and Nato that will bring peace to Afghanistan specifically and the region at large. But we also wish for our security concerns should also be resolved," he added.
"We have tried to help Afghanistan beyond our capabilities, but Afghanistan's war cannot be fought in Pakistan. We have made well-intentioned eforts for talks and peace in Afghanistan. However, Afghanistan is a self-sufficient country that is free to make its own decisions. If even today they veer towards war, then we cannot be a part of this war," the army chief maintained.
"We wish to have mutually respectful relations with all countries. If other countries cannot help us fight against terrorism then they should at least not hold us responsible for their own failings."
"Let us create a Pakistan where the use of strength is in accordance with the law and Constitution and is in the hands of the state."
"I would like tell misguided people that whatever you are doing is not "jihad but fasaad". Your country and your people are being hurt the most by your actions," the army chief cautioned.
"We are keeping a close watch on the designs of our enemies especially as they attempt to destroy the peace in Balochistan," he cautioned.
"Pakistan is a peace-loving country, and Pakistanis have, despite 40 continuous years of discord, retained their identity and unity. Larger countries with more resources than us have broken," he said.
"India should realise that the peaceful struggle of hundreds of thousands of youth in Kashmir does not need interference from Pakistan or Azad Jammu and Kashmir. It is in India's favour that they prioritise political and diplomatic solutions for sustainable resolution of the Kashmir issue instead of insulting Pakistan and using force against Kashmiris."
"Pakistan is a responsible nation. We did not bring nuclear weapons to South Asia. And even now these weapons are simply a guarantee of peace in answer to a neighbouring country which is high on power. It is this country which has brought unconventional war to the South Asian region," he said.
"Since 1971 Pakistan has remained a victim of terrorism. We have paid the price for the wars started by super powers in the form of terrorism, extremism and economic loss. We are abiding by our policy that we will not allow our soil to be used against any country, and expect the same of other countries."
The army chief also paid tribute to Pakistan's martyrs and their families, and vowed to take the war against terrorism to its logical conclusion.
Former army chief Raheel Sharif was in attendance at the ceremony, alongside prominent politicians including Foreign Minister Khawaja Asif, Information Minister Marriyum Aurangzeb, Interior Minister Ahsan Iqbal, National Assembly (NA) Speaker Ayaz Sadiq, and Leader of the Opposition in the NA Khursheed Shah. Well-known athletes and entertainers were also present at the event.
Sheheryar Munawar, Sana Javed, Farooq Hassan and Sadia Afzal were among the celebrities hosting the event.
Singer Atif Aslam opened the ceremony with a patriotic song, as a video paying tribute to the armed forces played in the background.
A short film showing the families of martyred soldiers remembering their sons left members of the audience in tears. Activist and motivational speaker Muniba Mazari was among those who spoke at the ceremony.