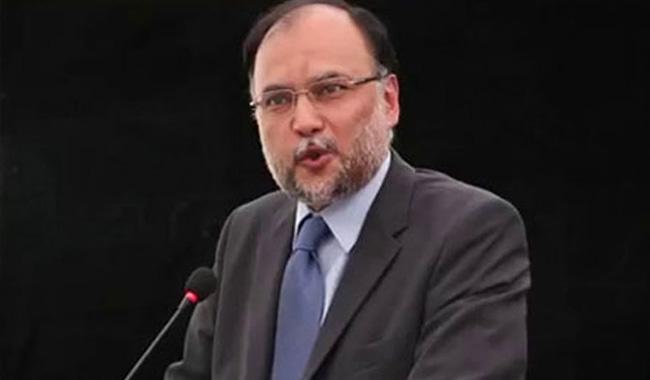 ISLAMABAD: Minister for Interior Ahsan Iqbal on Friday emphasized the need to introduce reforms in constitutions to protect the sanctity of vote and strengthen the democracy in the country.
While talking to media, the minister said that constitutional reforms are inevitable to respect the mandate, adding that it is national agenda and all political stakeholders should join the government in this cause.
He highly appreciated the Chairman Senate Raza Rabbani for his suggestion regarding inter-institution dialogue to empower the democratic system in the country.
Replying to a question the minister said that PML-N has never sought any support from PPP in the recent political scenario as the people of Pakistan have trust in the PML-N leadership.
Highlighting Pakistan Muslim League Nawaz (PML-N)'s government performance in four years, he said the economic revival, foreign investment under China Pakistan Economic Corridor (CPEC), controlling power shortage and maintaining law and order across the country were amongst the top achievements of the incumbent government.
He strongly critisized Pakistan Tehreek e Insaf (PTI) saying that it launched the campaign against the government to hide its repeated defeats in local bodies and other elections, adding that PTI attempted to create misunderstanding between the government and state institutions. He blamed PTI Chief Imran Khanand and Sheikh Rasheed for recent political crisis that caused huge loss to stock exchange of the country.
To a question about Supreme Court's verdict that disqualified former PM Nawaz from holding any public office, Ahsan Iqbal said, PML-N leadership has fully implemented the orders even if party and the people, who made Nawaz PM with their votes, raised serious questions on on the decision.
To a query, he expressed trust in the Supreme Court and said PML-N has filed review appeals to constitute a larger bench, adding that the former prime minister Muhammad Nawaz Sharif had presented himself for accountability before apex court despite having right of immunity.
To another question, Ahsan Iqbal said it could be an international agenda behind disqualification of Muhammad Nawaz Sharif to sabotage CPEC project. Current political crisis can benefit Imran Khan but not the country, the minister added.
The implementation on National Action Plan (NAP), he said,would continue to control terrorism and extremisim, saying that the coordination among the provinces would be enhanced in this regard.
Saad says Nawaz Sharif the most popular leader of country
Meanwhile, Minister for Railways Khawaja Saad Rafique said former prime minister Nawaz Sharif is the most popular political leader of the country.
While talking to Geo News, the minister said that general elections would be held in 2018 on its time and people would exercise their right of vote for accountability of political leaders and parties.
Replying to a question, he said although Nawaz was disqualified but his party is enjoying federal government, two provincial governments and also Gilgit-Baltistan and Azad Jammu and Kashmir governments.
Replying to a question, he said democracy is not yet fully strengthened in the country,it is still in its transitional period, adding that
PML-N would prepare a constitutional package with help of other political parties and legal experts empower the democracy and for sanctity of votes.