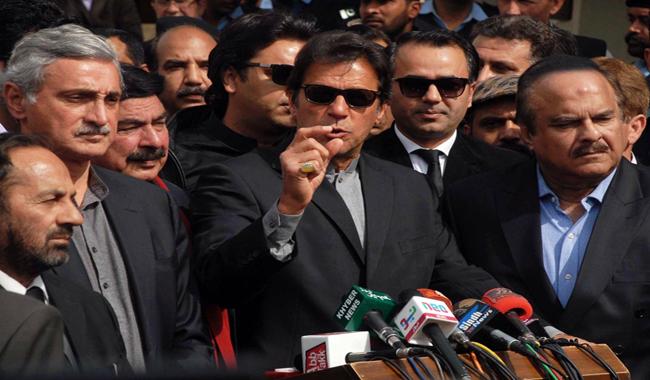 ISLAMABAD: Pakistan Tehreek-e-Insaf chairman Imran Khan on Friday called on Supreme Court of Pakistan to seek Prime Minister Nawaz Sharif's resignation to ensure transparent inquiry into offshore business interests of the ruling family.
Speaking to media, he said transparent investigation could not be carried out by the Joint Investigation Team as long as Sharif is holding the office of prime minister.
"JIT is an extension of Supreme Court," he said, adding that the PMLN might launch more attacks on the apex court.
He said he was mobilizing his party workers in order to stop the ruling party from targeting the Supreme Court.
He recounted the events of 1997 when the Supreme Court was reportedly attacked by Nawaz Sharif's party and warned that he would stand by the apex court to thwart any such move in the future.
Commenting on the JIT photo of Hussain Nawaz, he said the ruling party was giving the impression that an innocent child was harassed.
"A 45 year old is not a child, he married twice, and has six children of his own," said the PTI chairman.
He said Hussain Nawaz and his family were involved in corruption, money laundering and other major crimes.
Condemning Thursday's incident in which his ally Shiekh Rasheed was confronted by a PMLN worker apparently over a personal dispute, Imran Khan said it was PMLN's old habit to use strong arm tactics against its opponents.
He claimed Najam Sethi, a senior journalist, and Sarfaraz Nawaz, a former cricketer, were subjected to torture at the behest of Sharifs.
The PTI chairman also condemned arrest of Jamshed Dasti, a Member National Assembly from south Punjab.
When asked to comment on PMLN's demand for setting up a JIT against him, the former cricket hero said he would welcome any such move.
He said he brought his money back to Pakistan though banking channels and would prove the money trail unlike the Sharif family which has been unable to present anything corroborating their claims.
"I am a dangerous man, they should fear me. I am even more dangerous for PMLN and Nawaz Sharif," he said while answering a question.