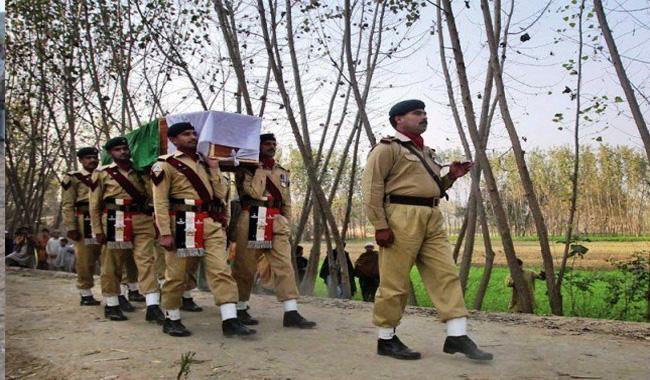 RAWALPINDI: Four Pakistani troops embraced martyrdom on Sunday when their vehicle plunged into Neelam River after being targeted by Indian troops' unprovoked firing along LOC, the Inter-Services Public Relations (ISPR) statement said.
According to details, A vehicle of the Pakistan Army moving along the Neelum River at Athmuqam on Sunday was targeted by Indian force's unprovoked firing. "The vehicle fell into the river and four soldiers embraced martyrdom in the Line of Control (LoC) ceasefire violation," said ISPR.
Pakistani troops effectively responded to Indian forces' ceasefire violation and made the guns of coward enemy silent.
The rescue operation was begun to recover the bodies of the martyred soldiers soon after the Indian force ceasefire violation.
The body of one martyred soldier has been recovered while search for the other three is underway.
The attack had similarities with an earlier assault on a bus in the same area last year, according to the army's media wing.
Recently talking about the situation on the Line of Control, ISPR DG said so far 580 ceasefire violations have occurred to-date this year — the highest in any year. "This indicates the Indian aim of diverting attention from political upheaval in Indian Occupied Kashmir," he claimed.
The ISPR DG lamented that the Indian army has the choice of opening fire on civilian areas whereas the Pakistan Army cannot do that to Kashmiris across the LoC.