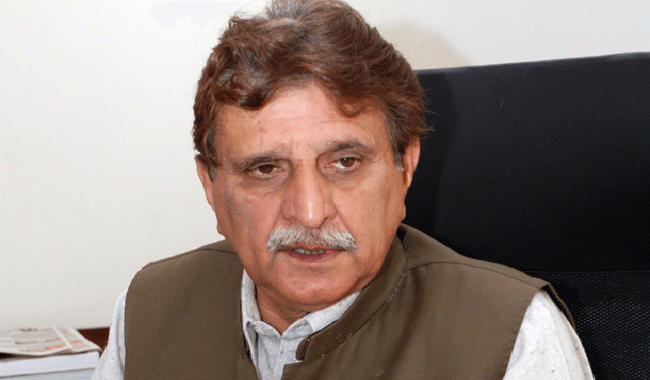 ISLAMABAD: Prime Minister of Azad Jammu and Kashmir (AJK) Raja Farooq Haider said that the future of Kashmiris was linked to Pakistan's prosperity.
While addressing at a news conference in Islamabad on Sunday the AJK prime minister clarified his statement on Kashmiris being uncertain about siding with Pakistan after Nawaz Sharif's disqualification, saying he said so out of concern for the country's current scenario.
Raja Farooq Haider said his statement was over the decision of the Supreme Court regarding Nawaz Sharif.
Haider said that he still stood behind what he said on Saturday.
"I condemn the way my [yesterday's] press conference is being presented," he said. "I had addressed the conference as a Kashmiri."
He added that a video of the session was available and could be referred to for clarification.
Expressing his displeasure over Sharif's disqualification, Hiader said Nawaz Sharif was his leader.
"I will speak over articles 62 and 63," he maintained. "I'm not a pigeon to close my eyes [in troubled times]."
"Kashmiris do not have any option other than Pakistan and have been trying to become a part of the country since the past 70 years."
The AJK premier expressed his support, saying the future of Kashmiris was linked to Pakistan's prosperity.