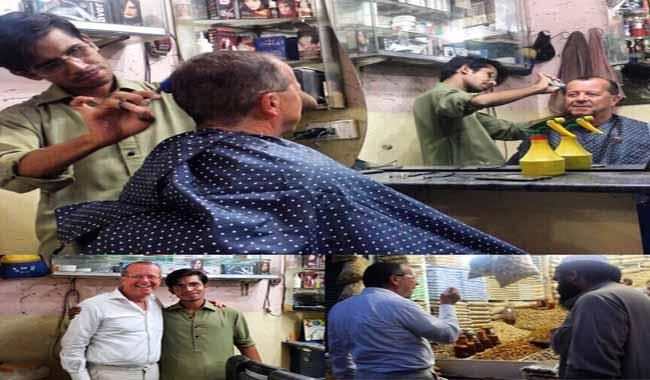 German Ambassador to Pakistan Martin Kobler recently took a stroll in a busy market in Peshawar where he also had a haircut at a local barber shop.
The envoy, who is quite popular among Pakistani social media users, often interacts with the common people during his visits to public places.
He is fond of sharing his experiences with his followers, and posts his pictures on his Twitter account.
The pictures of the ambassador , which he often captions in Urdu language, are widely shared on social media.
On Wednesday Kolbler posted a couple of pictures in which he is seen having a haircut. The envoy also posed with the young barber at his shop.
پشاور کے باذار کی سیر. بازار کی پرانی گلیوں میں ایک نوجوان نائ سےبال کٹوائے. pic.twitter.com/WRLGTZ7CAe

— Martin Kobler (@KoblerinPAK) September 12, 2017
The pictures were also retweeted by official Twitter account of Khyber Paktunkhwa chapter of the Pakistan Tehreek-e-Insaf, which saw the German ambassador's visit to the market as a sign which shows peace "prevails in Khyber Pakhtunkhwa"
#German Ambassador @KoblerinPAK having a Haircut in the #Peshawar market; Peace prevails in Khyber Pakhtunkhwa#KPKUpdates pic.twitter.com/yRpMnGG0ig

— PTI KP (Official) (@PTIKPOfficial) September 12, 2017
Martin Kobler was also among the people who took to Twitter to congratulate Pakistan cricket over return of international cricket to the country as the green-shirts defeated World XI in the first T20 series on Tuesday. "I congratulate Pakistan cricket team over victory. I am happy that international cricket is coming back to Pakistan," he tweeted.
پاکستانی کرکٹ ٹیم کو PAKvWXI جیت کی مبارکباد. میں خوش ہوں کے بین اقوام کرکٹ پاکستان میں واپس آ رہا ہے. https://t.co/XelEYYjeAs

— Martin Kobler (@KoblerinPAK) September 13, 2017