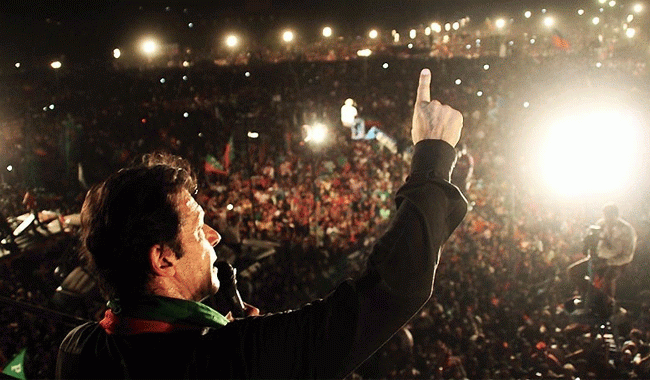 RAWALPINDI: Pakistan Tehreek-e-Insaf Chairman Imran Khan on Sunday termed former prime minister Nawaz Sharif's homecoming rally from Islamabad as conspiracy to put pressure on institutions.
Nawaz Sharif had been disqualified by five judges of the Supreme Court, Khan said while a addressing a joint public meeting of PTI and AML here at Liaquat Bagh.
He said that Nawaz Sharif had occupied institutions since 30 years. He had been talking against the institutions, Khan added.
While posing a challenge to the former prime minister, Imran said he can gather crowd 10 times bigger than you (Nawaz) had assembled.
He said there was a conspiracy to remove the Article 62 from the Constitution. However, he vowed to would protect judiciary.
While addressing to the former minister, Khan said this is not a drama, this is 'Naya Pakistan'.
Khan said that today only two classes are with Nawaz in the country. The first section is the one whose interests are linked with the PML-N. While citing the Abraham Lincoln's quote, "You can fool all the people some of the time, and some of the people all the time, but you cannot fool all the people all the time", the PTI chief said that the other class comprising a few people would soon wake up.
He recalled the Army Chief had thrice stated that the Army stands with the democracy, Constitution and institutions.
On the occasion, the PTI chief paid tribute to Awami Muslim League chief Sheikh Rashid for his nine-year struggle against corruption and poltical mafia.
"I had never praised anyone in my life unitll he deserves it," Khan told the gathering.