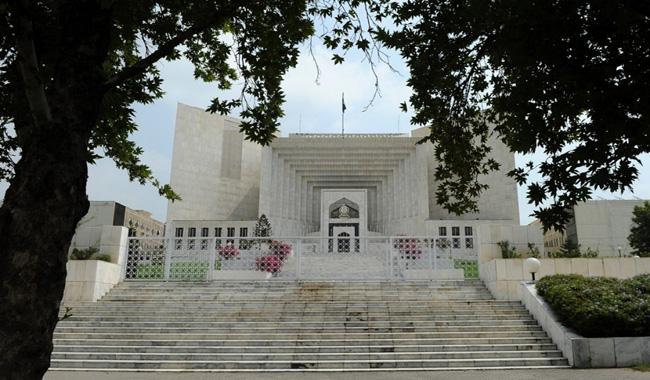 ISLAMABAD: The Joint Investigation Team (JIT) on Saturday submitted an application in the Supreme Court of Pakistan to apprise the apex court of the difficulties the panel has faced during the course of investigation into offshore business dealings of the ruling family.
According to Geo News, the report was submitted by staff of the JIT on behalf Wajid Zia, Additional Director of General of the FIA who heads the panel comprising members of the Inter-Services Intelligence (ISI), Military Intelligence (MI), State Bank of Pakistan and Securities and Exchange Commission of Pakistan.
Before submitting the application, the JIT held a meeting at the Federal Judicial Academy.
The JIT has been surrounded by a controversy even since reports emerged that some institutions were approached in order to induct certain members into the investigating panel.
A photo of prime Minister Nawaz Sharif's elder son that was leaked from the interrogation room further fueled the controversy, prompting the ruling party to criticize the JIT.
The JIT was asked by a Supreme Court bench overseeing the implementation of the apex court verdict in Panama Papers case to submit an application detailing the threats, pressures and difficulties it has faced.
It emerged on Friday that President National Bank of Pakistan, Saeed Ahmad has written a letter to registrar Supreme Court over alleged mistreatment by the Joint Investigation Team.
The letter was written to the registrar on June 05. Saeed Ahmad Ahmed first appeared before the JIT on May 30.
NBP Chief alleges, in contrary to apex court directives, the JIT team maltreated him and their behaviour towards him was humiliating and threatening.
The letter further states, Saeed Ahmad says, "When I appeared before the probing team I felt as I was a death row convict."
"I was questioned more than 12 hours in three sessions', he said and added "I was made to wait for five hours before the first session."
NBP President Saeed Ahmad recorded his statement in reply to various questions raised by the JIT members on May 30.
Tariq Shafi, cousin of Prime Minister Nawaz Sharif, was the first one to allege in writing that a member of JIT, interrogating Panama Papers scam against the ruling family, has threatened him during the investigations to withdraw his affidavit that he had earlier submitted before the apex court. Otherwise, he said he was threatened that he will have to face penal consequences.