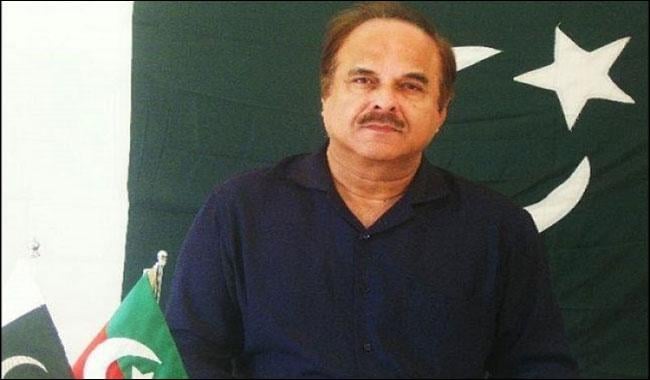 ISLAMABAD: Soon after Ayesha Gulalai revealed PTI Spokesperson Naeem-ul-Haque had also sent her text message about marriage, the latter confirmed late Thursday night he just discussed it with Gulalai.
In his tweets, which were later removed by him, Naeem-ul-Haque confirmed he did 'discussed marriage with Ayesha Gulalai'
The PTI spokesman said that his discussion about marriage with Ayesha Gulalai had 'nothing wrong' with that.
"Should I apologise for discussing marriage with Ayesha Gulalai? No I don't think so. Nothing wrong with that," wrote Naeem-ul-Haque on Twitter.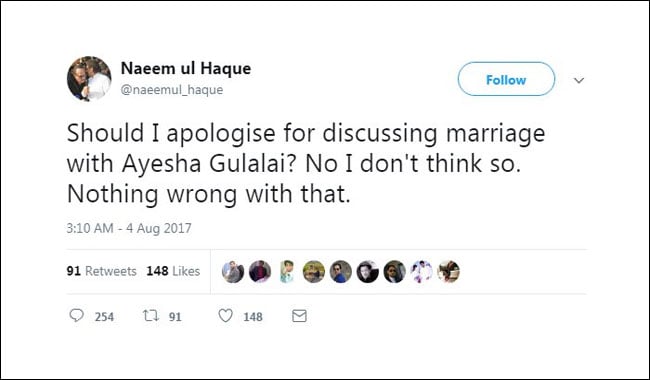 In his second tweet shared with his 397,000 followers, Naeem-ul-Haque said it wasn't a formal proposal but 'just a discussion' with Gulalai.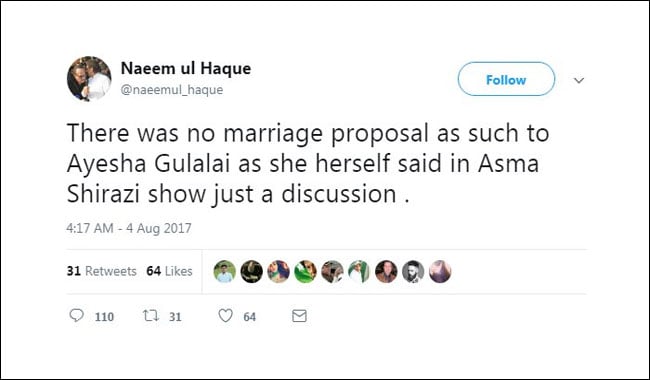 Gulalai, in Geo News' programme, 'Capital Talk' and 'Aaj Shahzeb Khanzada Ke Sath' alleged that the party spokesperson had also sent her inappropriate text messages.
Gulalai, in a new revelation, said Naeem-ul-Haque had also sent her a text message."Naeemul Haque also sent a text after sometime stating, 'I am alone and want to marry'," claimed Gulalai.
Asyesha Gulalai Wazir, the former PTI leader had leveled scathing allegations against Imran Khan and other party leaders.
She showed the messages, allegedly sent to her by Imran Khan from his personal number, to senior anchor and journalist Hamid Mir before the TV show.