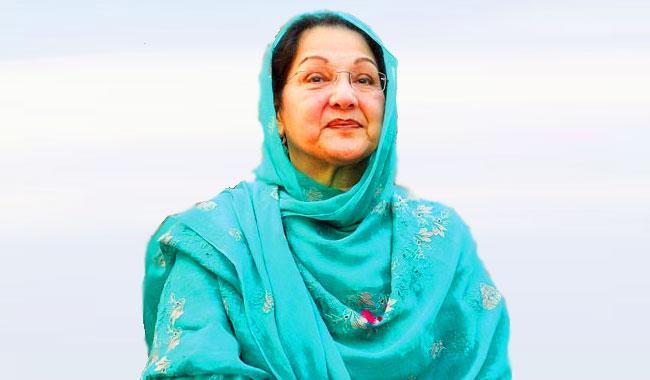 LAHORE: Kulsoom Nawaz on late Thursday signed nomination papers as PML-N has decided to field former first lady for by-poll in NA-120 Lahore-III, fell vacant after disqualification of former PM Nawaz Sharif.
According to details, Kalsoom Nawaz's nomination papers would be submitted today (Friday, Aug 10) for NA-120 by-poll as name of former first lady emerged as PML-N candidate for the seat (that) fell vacant after disqualification of ex-premier Nawaz Sharif. However, late Thursday it was revealed that PML-N leadership had earlier agreed on giving the contesting rights to Kulsoom Nawaz.
Though Kalsoom Nawaz successfully led the party's movement for the release of her incarcerated husband after a military coup by Gen Musharraf in 1999, she never contested election to actively part in Pak politics.
It is to mention here that the former prime minister had earlier wished his younger brother Punjab Chief Minister Shahbaz Sharif to succeed him as prime minister (after contesting from NA-120 to become a National Assembly member).
Later, the name of Shahbaz was apparently withdrawn after some senior party members apprehended that in the absence of younger Sharif from Punjab not only the pace of ongoing mega projects in the province would be affected but the party's energies would also be diverted to his election.
PTI fields Yasmeen Rashid for NA-120 by-poll
Meanwhile, it is learnt that Yasmeen Rashid would also submit her nomination papers as PTI has alrady decided to field for NA-12 by-poll.
Candidates for the NA-120 by-election started filing nomination papers from Thursday (August 10). According to media reports, as many as thirty-five candidates have received nomination papers for the by-poll scheduled to be held on September 17.
Submission of the papers will take place between August 10-12.
The scrutiny of the papers will be held between August 15 and 17, while the final list of candidates will be issued on August 26, according to the ECP.