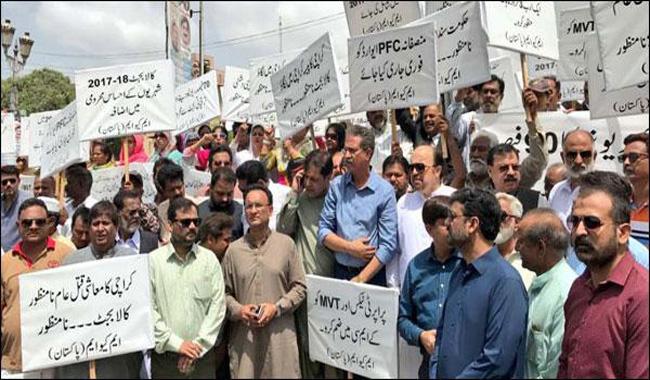 KARACHI: City Mayor Waseem Akhtar on Friday led protest against the Sindh government which he said discriminates against Karachi.
A large number of local bodies' representatives rallied behind the mayor to pressure the provincial government to release funds for crucial development projects in the port city.
Security officials blocked the road leading to the Sindh Assembly where the house was in session. The protesters who were holding placards inscribed with their demands started chanting slogans against the Sindh government as the police stopped them from proceeding towards the Sindh Assembly.
Waseem Akhtar has long accused the the provincial government of not transferring powers local bodies' representatives.
The protesters alleged that Sindh government was deliberately discriminating against Karachi and creating hurdles to stop its progress by not funding crucial development projects.
The Mayor, who belongs to the Muttahida Quami Movement (MQM), said they would not tolerate apathy of the government towards important development projects for the port city.
On the other hand, MQM lawmakers protested inside the Sindh Assembly and staged a walk out, with opposition leader Khawaja Izharul Hassan saying they would not return to the house till the end of the protest of the city mayor.
He regretted that the PPP government was not giving any importance to the opposition. He demanded that the required funds for the development of the city should be released and the uplift schemes as demanded by the city mayor should be included in the provincial budget to ensure swift development of the city that is the "revenue engine for the country".
Later senior minister Nisar Ahmed Khuhro held a press conference at the Karachi Press Club where he accused Akhtar of incompetence.
He said the Sindh government has allocated Rs12billion for uplift projects of the city. He said the provincial government also gives a grant of Rs50 Crore every month to the KMC.
He advised the mayor to shun protest and focus on discharging his professional duties.