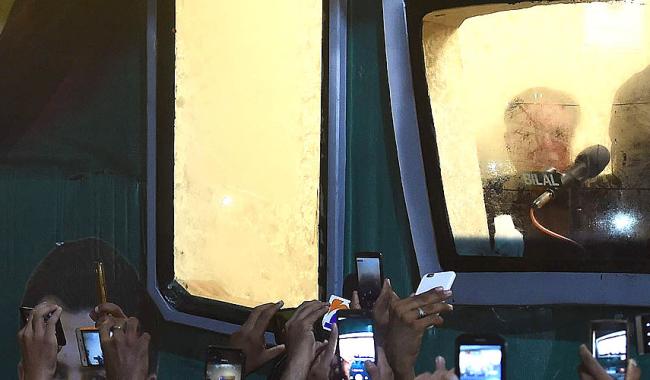 RAWALPINDI: Former prime minister Nawaz Sharif Thursday kicked off his rally from Punjab House where he stayed overnight on his way to Lahore via GT Road.
He began his journey Wednesday morning from Islamabad and could only reach Rawalpindi in 12 hours, which is just 20 kms from the capital.
In his late night address to workers who had gathered in huge numbers at Committee Chowk, Nawaz Sharif said the Supreme Court´s decision to depose him last month was a "joke" and an insult to voters. He sought people's promise to get their mandate respected. He said that he did not want their support for his reinstatement but for changing the destiny of the country.
He paid rich tributes to the army personnel who had been martyred on Wednesday. "They are Pakistan's heroes and deserve our love and respect." He said that the decision against him was an insult of the mandate given to his government by the people of Pakistan saying the world and the Pakistani nation had not accepted it.

He questioned the gathering of the people if they would permit anyone to end the government in seconds which was elected with millions of votes. "We have to change Pakistan where the mandate of people should be respected," he said and added that he wanted support of people for the development of Pakistan and strengthening of democracy.

Without naming Sheikh Rasheed, he said, "Some people say that Pindi is their city but I want to say that it is the city of Nawaz Sharif. I have received unprecedented love in this city." He said, "It is a historic fact that major decisions come from Rawalpindi."

He said that the love shown by the people of Rawalpindi reflected that they had not accepted the decision against him. He said that the people's huge gathering was a referendum here. "I want to ask you whether the decision was correct," he said. People chanted "No, No."

He asked whether he committed any corruption or he was involved in plundering.Former prime minister pointed out that judges had also said there was no charge of corruption against him. "When no corruption charge was found, I was disqualified for not taking salary from my son," he said adding now history would decide whether the decision was correct or wrong as it would remember the verdict.

"This is insult to the mandate given to me. This has not happened for the first time as I have also faced this situation in the past," he said.Nawaz Sharif said during the last four years, they had ended loadshedding and terrorism. He said that development in the country had touched new heights and there was a lot of investment coming to Pakistan.

"Had my government not been ended, unemployment could have been done away with in the next two to three years," he said. He said he was disqualified because he did not receive salary from his son's company saying the world had also not accepted the decision against him.

"The country has been witnessing the same situation for the last 70 years," saying no prime minister could complete his or her tenure. He asked the people whether they were not elected representatives of the people of Pakistan. He said that the country would no more like this joke with democracy. "I have no greed for power, what I want to see this nation as the best nation where investment should come and youth get employment," he said.

He took the pledge from people that they would not allow votes and mandate to be disrespected and insulted in future.He also took the pledge from the people that they would support him in changing the destiny of Pakistan and the Pakistani nation.

Referring to the return of Maulana Tahirul Qadari to Pakistan, he said that Maulvi had again reached here saying that dharna people and the Maulvi had made Islamabad hostage.

Nawaz Sharif strongly condemned the attack on the van of a news channel, saying it should not happen as it was not the policy of his party.