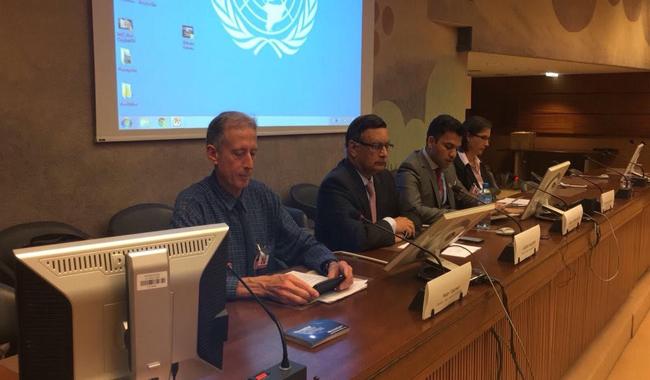 LONDON: The central character of Memogate controversy made appearance after silence of many years at one of Prime Minister Sahid Khaqan Abbasi's event in Washington – and Hussain Haqqani was in Geneva at the same time for the current United Nations Human Rights Commission (UNHRC) session.
Mansoor Ijaz, who was at the heart of Pakistan's "memogate" scandal which rocked the civilian government of Pakistan People's Party (PPP) in 2012, can be seen in the audience at the discussion at Council of Foreign Relations (CFR) where PM Abbasi answered questions of the audience.
Exactly when Mansoor Ijaz appeared in Washington DC, his former friend and Pakistan's then ambassador to Washington Hussain Haqqani was in Geneva, Switzerland's capital, meeting delegates to the current United Nations Human Rights Commission (UNHRC) addressing a seminar on Balochistan organised by a nationalist group.
Members of Pakistan's delegation, Dr Maleeha Lodhi, journalists and local Pakistan-watcher can also be seen in the audience.
More than half an hour to into the question and answer session, Mansoor Ijaz asked Pakistani prime minister a question about Pakistan's nuclear programme and fears expressed about the programme often in western press.
The PM was asked question about the plutonium waste and what measures he country was taking for its safety.
Prime Minister Abbasi replied that Pakistan's nuclear assets were completely safe and there's nothing to worry about. He said Pakistan was a responsible nuclear country and has managed nuclear assets for well over 50 years without any problem.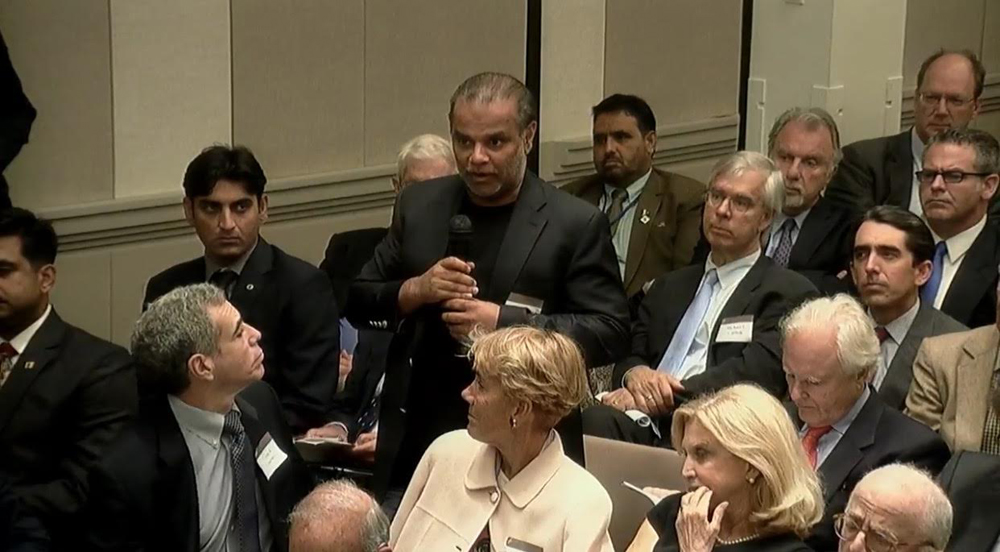 Mansoor Ijaz came to light in October 2011 when he made allegations that he was asked by Hussain Haqqani to help him prevent a possible military coup in Pakistan in the wake of Osama Bin Laden's killing. He wrote an article about the memorandum in a piece for the Financial Times.
Ijaz claimed that Haqqani wrote the memo on behest of Asif Ali Zardari but Haqqani denied the claim. The Supreme Court of Pakisan set yp a commission to investigate the matter and its understood that then ISI's chief Ahmed Shuja Pasha met Ijaz in London and later told the SC that after examining Mr Ijaz's Blackberry phone records, he was satisfied that there was sufficient evidence to warrant an inquiry.
Hussain Haqqani has since then been teaching and working with influential think-tanks in Washington. When approached for his comments, Haqqani said: "Memogate was just media noise, which is why the case has never been decided by the Supreme Court. That it disrupted lives without conclusion is a sad reflection on how things work in Pakistan. I have moved on.
"I did nothing wrong, never went into hiding, and have always expressed my opinions publicly. In Geneva, I spoke as a Pakistani to seek justice for many of those who have been alienated from Pakistan so that more tragedies are averted."
Mansoor Ijaz told this scribe that he asked Pakistan PM question on nuclear concerns to put concerns to rest. "My question was aimed at giving the prime minister a chance to alleviate concerns that Pakistan's unregulated fissile materials like plutonium waste could ever fall in the wrong hands. In my view, this concern has been overhyped for years by western journalists – even I was guilty of doing this in some of my op-ed pieces in the 2000s after the 9/11 attacks. But my opinion changed over the years, and Pakistan's long track record of safely building its nuclear assets from the 1960s onward through every possible type of political and military turmoil is demonstrable evidence of the safeguards inbuilt in Pakistan's nuclear program."