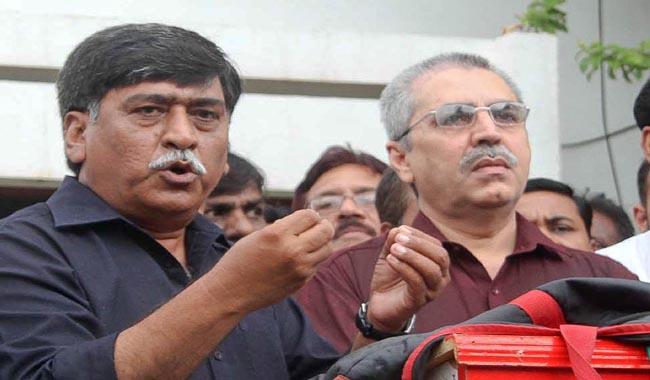 KARACHI: Pak Sarzameen Party (PSP) and the Muhajir Qaumi Movement (MQM) on Monday agreed to attend an All Party Conference (APC) that would be hosted by the Muttahida Qaumi Movement (MQM-P) Pakistan on August 22, a year after Altaf Hussain's speech that led to a crackdown against Muttahida.
An MQM delegation comprising Amir Khan, Faisal Sabzwari and others visited PSP headquarters where they were received by Hafeezuddin, Dr Sagheer and Waseem Aftab.
The two parties exchanged views on APC that aims to focus on issues ranging from local government system, to corruption plaguing provincial departments.
Addressing a press conference following the meeting, Anis advocate, a PSP leader, said, "principally we have decided to attend the meeting tomorrow"."We hope that the MQM-P will adopt a clear stance against the "traitor" tomorrow."
Speaking on occasion, Amir Khan said MQM had already announced its separation from founder of the party."We should avoid controversial talk," he said.
"APC will discuss corruption in Pakistan, particularly in Sindh. We want to chalk out a unanimous course of action for betterment of Karachi".
Later on, the delegation met with Muhajir Qaumi Movement (MQM) leader Afaq Ahemed and also invited him to attend the APC.
Accepting the invitation, Ahmed said: "We should meet, regardless of our political views".
"We will give our view point about the issues facing Muhajir nation, and about the resources of Karachi," he said,
Moreover, another delegation of the MQM led by Khalid Maqbool Siddiqui met with Pakistan People's Party leader Nisar Khoro who said: "We stood by democracy, and would also do so in the future. We have received invitation to attend the APC, and will take a decision after consultation with the party".