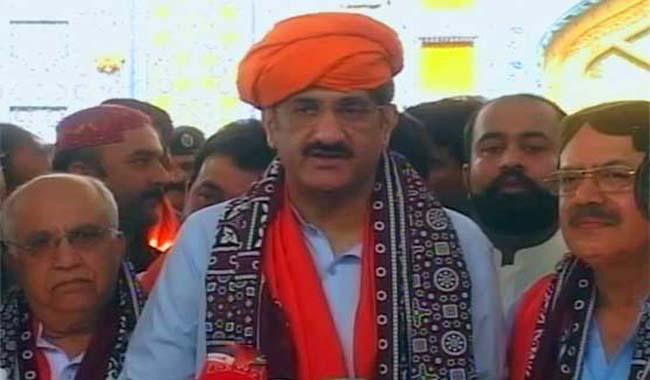 KHAIRPUR: Sindh Chief Minister Syed Mural Ali Shah inaugurated the 196th Urs celebrations of Sufi saint Hazrat Sachal Sarmast at shrine the city of Daraza Sharif on Saturday.
The chief minister laid a wreath on the grave of the multilingual Sufi poet and offered fateha to mark the beginning of the annual Urs celebrations. He was accompanied by PPP leaders and cabinet members.
CM Murad Ali Shah offers fateha at Mazar of Sufi Saint Sachal Sarmast at Daraza Sharif, Khairpur. pic.twitter.com/RfaKjVyocz

— Rasheed Channa (@RasheedChanna1) June 10, 2017
He also enjoyed Sachal Sarmast kalam from his Faqirs after inaugurating the Urs celebrations.
Sindh CM Murad Ali Shah enjoys Sachal Sarmast kalam from his Faqir's just after opening Urs at Daraza, Khairpur pic.twitter.com/ghzwOZq2ca

— Rasheed Channa (@RasheedChanna1) June 10, 2017
Syed Murad Ali Shah said Sindh is the land of Sufis who fostered peace, brotherhood and harmony.
Security arrangements at the shrine have already been beefed up for three-day Urs celebrations to pay respects to Hazrat Sachal Sarmast.
The Urs would conclude on June 12.