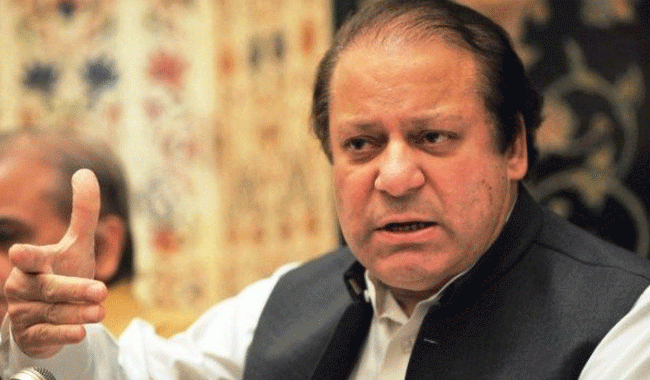 SIALKOT: Prime Minister Nawaz Sharif said on Wednesday those demanding resignation from him were frequently rejected by masses.
"Our accountability is being held for last 44 years. Who will question those doing negative politics?, the prime minister stated this while speaking at the Sialkot Chamber of Commerce and Industry.
Who will tell us the money trail of the wealth looted from the Sharif family? "Crazy people don't pull legs, let the country move ahead," the prime minister said while referring to opposition parties without taking their names.
The game that started in 2014 is still continued today in one form or the other. I would have taken $5 billion from the US for not carrying out nuclear tests if I were not loyal to the country.
Nawaz said that he was elected to power by masses.
"What should I do if you had failed to get votes?" he asked. Do whatever you can to malign us but still you will fail to get public support in the coming elections, the prime minister said referring to PTI chief Imran Khan without taking his name.
The stock exchange suffered as a result of the ongoing controversy, he claimed.
He said there has not been a single corruption charge against us in the last four years.
People would now get sufficient electricity at cheaper rates as power projects were completing at the fast pace in the country.
We have broken the backbone of terrorists in the country, he maintained. A countrywide network of motorway is being laid down.
He said that Zulfiqar Ali Bhutto had nationalised our businesses.
Nawaz said that Khawaja Asif was his trusted aide since 1964.
Earlier, the premier inaugurated the newly-established Riazuddin Sheikh Business and Trade Centre in Sialkot.
The premier was accompanied by Defence Minister Khawaja Asif, Commerce Minister Khurram Dastgir and Development Minister Ahsan Iqbal.