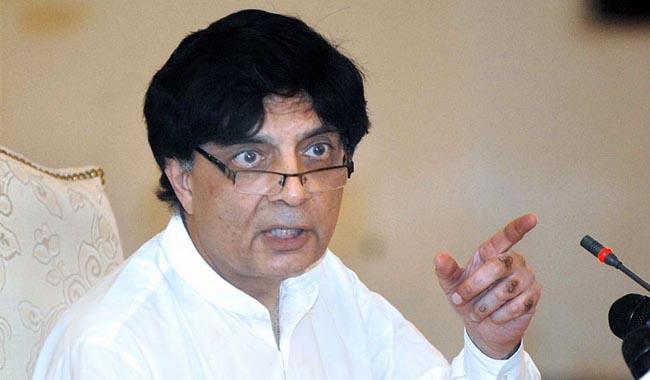 ISLAMABAD: Interior Minister Chaudhry Nisar Ali Khan on Thursday address what he said the most difficult press conference of his life to put the speculations about his "differences" with the Pakistan Muslim League Nawaz to rest.
"I am not angry, why would i be angry when my party leadership is in trouble," he said. He, however, conceded that he was facing conspiracies and difficulties within the party.
Nisar Ali Khan said he had decided to make an extreme decision at a press conference on Sunday. "Had I announce the decision, they would have said i left in difficult time".
He said he was the only person who always whispered in Sharif's ear "Nawaz Sharif you are human".
"Some of our friends and people from opposition had predicted Nisar Ali Khan wouldn't leave the PML-N. I took these remarks for myself as an honour, he said. I dared to speak truth throughout my poltical career".
He addressed the press conference after a meeting with Chief Minister Punjab Shahbaz Sharif, Finance minister Ishaq Dar and Railways Minister Kh Saad Rafique at the Punjab House in last-ditch efforts to placate him.
On Wednesday, a high-level delegation of the Pakistan Muslim League-Nawaz (PML-N) met the estranged minister to get his proposed press conference cancelled.
However, the interior minister remained steadfast on holding the press conference as the delegation, comprising CM Shahbaz, Federal Finance Minister Ishaq Dar and Minister for Railways Khawaja Saad Rafiq, held a meeting with him that continued for more than four hours.