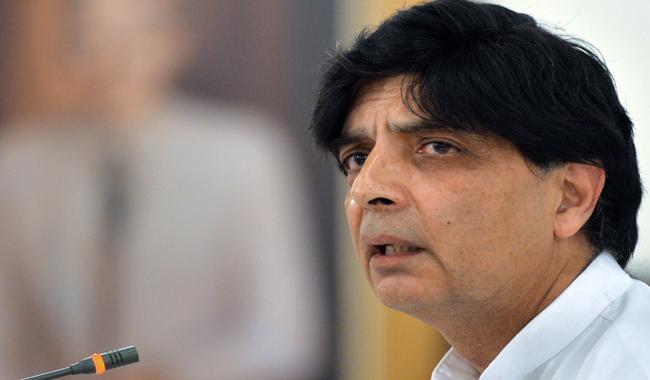 ISLAMABAD: A federal minister's remarks during Geo TV's talkshow Naya Pakistan prompted a strong response from Interior Minister Chaudhry Nisar Ali Khan on Saturday, underscoring his differences with his colleagues and the Pakistan Muslim League-Nawaz over Panama Papers controversy.
Without naming anyone, a statement issued by the ministry of interior said: "Interior minister has not given such a statement which a federal minister is repeating time and again, and attributing it to federal interior minister".
The statement also called on the minister to avoid from making "wrong and unrealistic statements" about interior minister's speech in the federal cabinet meeting.
The interior minister went on to say such statements were coming from the ministers who are responsible for bringing the government to such a "critical situation.
The interior ministry's statement was referring to Federal Minster for Planning and Development Ahsan Iqbal's comments at Geo TV talkshow where he denied there were any differences between Nisar Ali Khan and the party leader ship.
But when Talat Hussain, host of Naya Pakistan, asked him why the interior minister was conspicuous by his absence from media and whether it underlines a division, Ahsan Iqbal said : Party's interest becomes a priority when there is a tough call. You are not expected to open your complaint box and start whining that you were not heeded.
"To me, ones character is defined by ones response in the face of a conspiracy. Either you start complaining about the past or you stand by [your leader] keeping in view his integrity."