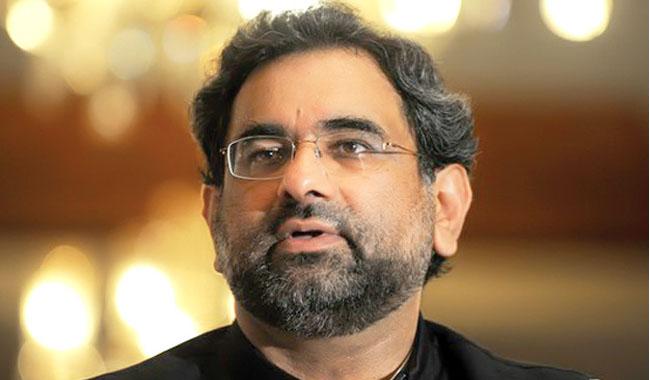 ISLAMABAD: Prime Minister Shahid Khaqan Abbasi on Wednesday chaired the National Security Council (NSC) at the PM House.
This was the first NSC meeting held under the chairmanship of PM Abbasi, who was elected by the parliament earlier this month after the Supreme Court ruling disqualified former prime minister Nawaz Sharif on July 28.
The meeting that lasted for four hours reviewed the prevailing situation along the Line of Control (LoC) and the Afghan border and the country's internal security. Besides, the military's ongoing Operation Raddul Fasaad and Operation Khyber-4 also came under discussion.
The participants of the meeting were agreed that Aghanistan needs to control illegal movement from her side of the border and stop incidents of cross-border firing and shelling.
It was decided to continue security operations till elimination of terrorism from the country.
Pakistan's Foreign Secretary Tehmina Janjua held a meeting with Afghan President Ashraf Ghani yesterday. Sources said the developments of that meeting will also come under discussion at today's NSC meeting.
This was the first meeting of the country's top security body headed by the new prime minister.
Foreign Secretary Tehmina Janjua, who had a meeting with Afghan President Ashraf Ghani on Tuesday, briefed the meeting that Afghan government had been informed of the Pakistan's pont of view regarding the regional security situation.
The meeting was attended, from the military's side, by Chairman Joint Chiefs of Staff Committee General Zubair Mahmood Hayat, Chief of Army Staff General Qamar Javed Bajwa, Chief of Air Staff Air Chief Marshal Sohail Aman, Chief of Naval Staff Admiral Muhammad Zakaullah and Inter Services Intelligence Director General Lt Gen Naveed Mukhtar, while Defence Minister Khurram Dastagir, Interior Minister Ahsan Iqbal and other senior officials represented the civilian government.