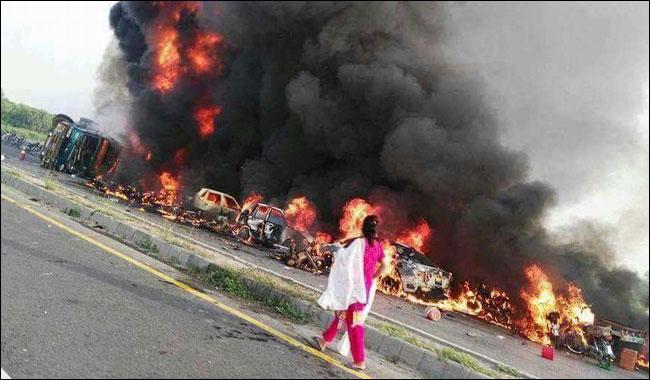 ISLAMABAD: The Oil and Gas Regulatory Authority (OGRA) has held private oil company responsible for recent oil spill and subsequent oil tanker explosion in Ahmedpur Sharqia, Bahawalpur.
The regulatory body on Friday issued its investigation report of Ahmedpur Sharqia oil tanker explosion in which over 200 people killed and dozens injured.
OGRA held oil market company (OMG) concerned responsible for the incident, saying the oil tanker of the said company did not meet prescribed standards.
"For transportation of 50,000 litre oil, 5 axle tanker is used, however, the tanker exploded in the incident was that of 4 axle," the report says.
The fitness certificate issued to the oil tanker was also fake, it said and added that vehicle did not meet the prescribed standard technically.
The company also violated rules of set by OGRA and the department concerned, it maintained.
The regulatory authority also fined Rs 10 million to the oil company besides a compensation money of Rs 1 million each to the victims and Rs 0.5 million to the injured.
The OGRA has directed the company for immediate implementation on its order and warned for legal action in case of any delay.