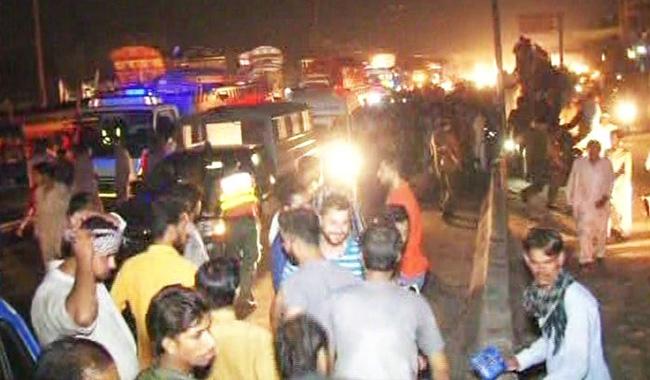 LAHORE: At least one person was killed and other 37 were injured in a truck bomb that ripped through Lahore's Bund Road area on late Monday.
As per details, the explosive material was planted inside a truck which was loaded with fruit. It is yet to ascertain that how and when the truck arrived in the area. While, the law enforcement agencies reached the scene to cordon off the area and started collecting the evidences to determined the cause and nature of the blast.
According to rescue service official, one dead body has been pulled out the rubble of the damaged building, which was destroyed after the blast that injured other 37 people, most of them were passer-bys, who have been immediately shifted to the nearby hospital, he added.
While, Edhi, the civil defence and bomb disposal squad timely started rescue services on the scene where powerful explosion destroyed a nearby buildings, damaged several vehicles and electricity wires.
Meanwhile, Provincial Minister for Specialized Healthcare Khawaja Salman Rafique and Food Minister Bilal Yasin visited the Mayo Hospital and inquired about health of the injured.
Talking to the media, Bilal Yasin said the best medical facilities have been ordered to provide the injured, adding that most of them have been discharged after providing first aid.
The blast came weeks after a bombing that killed at least 26 people and injured dozens at a vegetable market in Lahore.