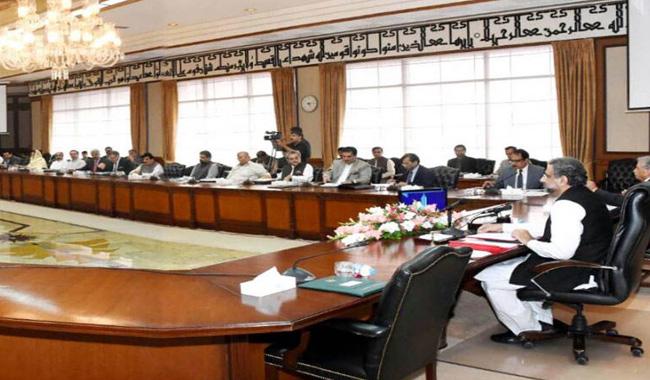 ISLAMABAD: The federal cabinet, which met in Islamabad on Thursday with Prime Minister Shahid Khaqan Abbasi in the chair, expressed its deep concerns over the BRICS declaration, adding that the Terrorists organizations mentioned in BRICS declaration are already banned in Pakistan.
While chairing federal cabinet meeting in Islamabad, Prime Minister Shahid Khaqan Abbasi said that China had already clarified that BRICS declaration signifies no change in policy towards Pakistan. He further said that a comprehensive and active system being experienced to eradicate terrorism in the country.
PM said that the security agencies and armed forces are fully alert to protect Pakistan internally and on borders. He mentioned that Pakistan has rendered countless sacrifices in war against terrorism and urged the world to appreciate and acknowledge it.
Earlier, Chinese Ambassador to Pakistan Sun Weidong assured Pakistan that nothing new has been demanded of it with respect to the recently-adopted BRICS declaration against terrorist groups.
Praising Pakistan's efforts against terrorism, Weidong said that China fully supports Pakistan's stance on terrorism. "Pakistan and China are in constant contact regarding regional challenges." he said.
It is to mention here that The leaders of the five emerging market powers — Brazil, Russia, India China and South Africa named militant groups allegedly based in Pakistan, including the Haqqani Network, Jaish-e-Mohammad and Lashkar-i-Taiba.
Meanwhile, federal cabinet strongly condemned the genocide of Rohingya Muslims and passed a resolution in this connection.
It said that Pakistan condemns the cold-blooded and callous genocide of innocent Rohingya Muslims. The resolution called upon Nobel laureate Aung San Suu Kyi to take immediate steps to stop the atrocities being committed in Myanmar where her party is in power.
During the meeting, The cabinet approved various agenda items including the ratification of the Air Services Agreement between Pakistan and the Republic of Belarus.