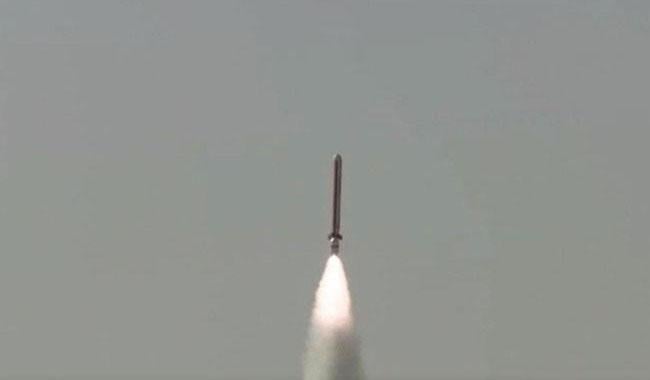 RAWALPINDI: Pakistan on Wednesday conducted a training launch of short-range surface to surface ballistic missile Nasr.
According to an ISPR statement, Chief of Army Staff Gen Qamar Javed Bajwa witnessed the launch and said that "Nasr has put cold water on cold start".
Pakistan has successfully undertaken a series of training launches and tests during the current week for validation of Nasr's technical parameters.
"Our strat cap is a guarantee of peace agnst belligerent neighbour & only meant to ensure, no one thinks war remains an option", COAS(2 of2) pic.twitter.com/oMU4bZNnse

— Maj Gen Asif Ghafoor (@OfficialDGISPR) July 5, 2017
The current tests validated the missile's enhanced range of 60 to 70 kilometres and flight maneuverability. Nasr is a high precision weapon system with the ability to quickly deploy in the battle area, the statement added.
This weapon system will augment credible deterrence against prevailing threat spectrum more effectively, including anti-missile defence," said ISPR.
The COAS appreciated the standard of training and operational preparedness of Army Strategic Force and congratulated the scientists and engineers on achieving this significant milestone towards Pakistan's credible deterrence capability, the statement added.
He said that war must be avoided at all costs and Pakistan's strategic capability is a guarantee against a highly militarised and belligerent neighbour.
"Pakistan will go to any length to ensure regional peace and stability," Gen Bajwa said.
The launch was attended by senior military officials, scientists and engineers.