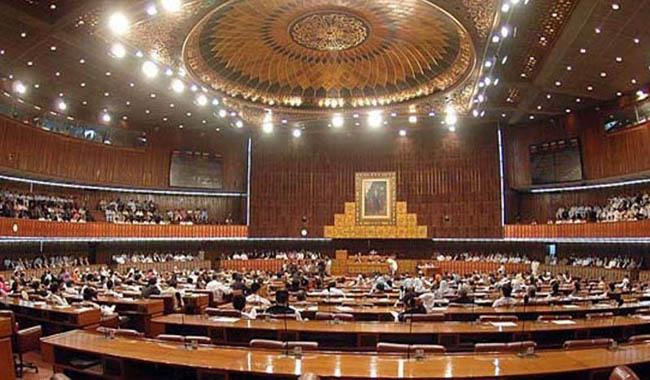 ISLAMABAD: As President Mamnoon Hussain has already summoned the National Assembly session to meet on Tuesday (August 01) at 3pm to elect a new prime minister after the Supreme Court disqualified Nawaz Sharif following an investigation into corruption allegations against him and his family. The National Assembly Secretariat Sunday started issuing nominations papers for the election.
According to details, The National Assembly Secretariat Sunday begun issuing nominations papers for the election of prime minister scheduled to be held on August 1 (Tuesday), nominations papers will be received by July 31 till 2 pm.
Those who have so far obtained nomination papers included PML-N Stalwart Shahid Khaqan Abbasi, Sheikh Rashid of Awami Muslim League (AML) backed by Pakistan Tehrkee-i-Insaf (PTI).
PPP wants joint candidate from Opposition
While Leader of the Oppoistion in National Assembly Khursheed Shah on Sunday collected six nomination papers as PPP making efforts to field joint candidate from all opposition parties for the prime minister's slot, and in this connection it has convened a meeting of opposition parties on Monday to evolve a strategy.
Khursheed Shah made telephonic contacts with the Shah Mehmood Qureshi of PTI, Aftab Ahmed Khan Sherpao of QWP, Amir Jammat-e-Islami Senator Sirajul Haq and Chaudhry Pervaiz Elahi of the PML-Q to discuss the political situation after the disqualification of Nawaz and to formulate a joint strategy of the opposition in the election of the leader of the House.
PML-N Candidate for PM slot
PML-N named Punjab CM and Nawaz´s younger brother Shahbaz as his successor, but he must first enter parliament by contesting the seat left vacant by Sharif.
In the meantime the Pakistan Muslim League-Nawaz (PML-N), which enjoys a majority in parliament, has nominated former petroleum minister Shahid Khaqan Abbasi as interim prime minister.
Shahid Khaqan Abbasi meets fazlur Rehman
Shahid Khaqan Abbasi, PML-N nominee for the prime minister's slot, had a meeting with Jamait Ulema-e-Islam-Fazl (JUI-F) chief Maulana Fazlur Rehman, where talikinng to media persons he said opponents were free to file references against him.
While rejecting Sahaikh Rashid's allegations upon him, he said that he has been in politics for the last 30 years and has declared all assets belong to him.
He further said the party had nominated him as a candidate for the office of prime minister an he would approach all the National Assembly members to vote for him.
Replying to a question, Abbasi said he would form the cabinet in consultation with the PML-N leadership.
To a query, he replied despite reservations the Supreme Court's verdict had already been implemented.
Fazlur Rehman said
Meanwhile, Maulana Fazlur Rehman said the decision to support the PML-N candidate for prime minister would be taken in consultation with the party leaders.
He said being an ally, the JUI-F would extend all-out support to the PML-N for steering the country out of crisis.
Sharif's Arrival at Murree after leaving PM's house
Former premier along with his family vacated the PM's House and arrived in Murree two days after a five-member bench of the Supreme Court unanimously found Nawaz unfit to hold public office.
On Sharif's arrival at Murree, supporters chanted: "The Lion is here". He (Nawaz) was so warmly welcomed by his supporters that he had to come out his vehicle to briefly share his words saying that he felt proud that he was not disqualified over corruption, he lauded the supporters to stay steadfast in all circumstances. On the occasion, Maryam said that Nawaz sharif lives in the hearts of the people no one can drive him out.
PTI's Thanksgiving Rally
Meanwhile, supporters of Pakistan´s main opposition leader Imran Khan crowded into an arena on Sunday evening for "Thanksgiving Rally" called to celebrate Sharif´s ousting, where he said that after Nawaz Sharif's disqualification by the supreme Court, now it is Asif Ali Zardari's turn.
He warned PPP co-chairperson Asif Ali Zardari and said, "Next is your turn, we will set out against corruption. We do not have any enmity with Nawaz-league; our fight is against corruption".
While he thanked and paid tribute to the five judges of the Supreme Court bench, which disqualified Nawaz Sharif as the prime minister, and members of the Panamagate joint investigation team (JIT).
Graft allegation against Imran
It is to mention here that PTI chief Imran Khan himself also faces graft allegations in court linked to the non-disclosure of assets and offshore companies, similar charges that brought down Sharif.
Challenges for next PM
Newly elected PM will have to stabilize political situation that caused uncertainty in the country by evolving a quick strategy to tackle Pakistan's problems regarding more sensitive issues of foreign policy with the United States, frayed relations with India and to dismantle militants.
He will also need to make efforts to boost economic growth above the current rate of 5.3 percent to steer the country on the way of progress.