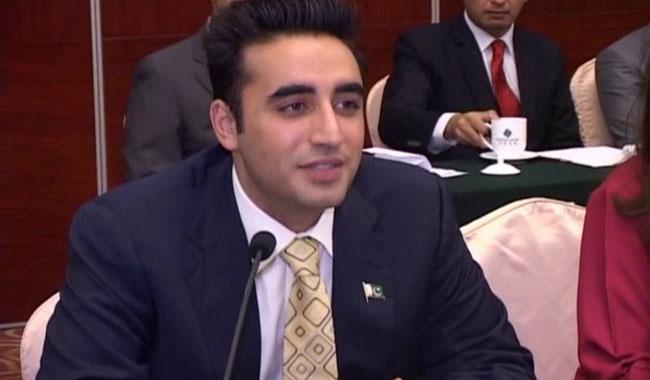 ISLAMABAD: Demanding Prime Minister Nawaz Sharif to resign, Chairman Pakistan Peoples Party Bilawal Bhutto Zardari on Saturday said "Go Nawaz Go" rallies in Multan, Bahawalpur and Dera Ghazi Khan planned his party are just the beginning.
According to a statement issued by the PPP, Bilawal Bhutto appreciated the party leaders and workers from South Punjab "for launching the salvo against Nawaz Sharif and his coterie who have caused immense damage to the image of democracy and democratic credentials".
"Nawaz and company has proved that politicians grown and groomed in dictator's laps had joined politics for their ulterior motives instead of serving the nation and the country," he said.
Bilawal Bhutto Zardari said that resignation was the only way-out for Prime Minister Nawaz Sharif and asked him to stop weighing in other options of confrontations with the institutions to save his financial crimes and mega corruptions.
"Is not this shocking that each family member of Nawaz Sharif fattened their assets by an average of 16.6 during a single and his second year 1991/92-1992/93 in the Prime Minister House as per the Panama JIT findings," the statement quoted the PPP chairman as saying.
He said Nawaz Sharif had himself promised that he would step down if any evidence comes out against him but now he is reluctant to fulfill his own words when a box full of evidences is made available.
He said that PPP workers won't stop "Go Nawaz Go" sloganeering and rallies across the country until Nawaz Sharif is forced to resign by the people of Pakistan.
Bilawal Bhutto Zardari appealed his party and the masses to hold "Go Nawaz Go" rallies in each district headquarters and tell the "outgoing Prime Minister" that 200 million Pakistanis are up in protest against him and want him to go home without wasting any further time.