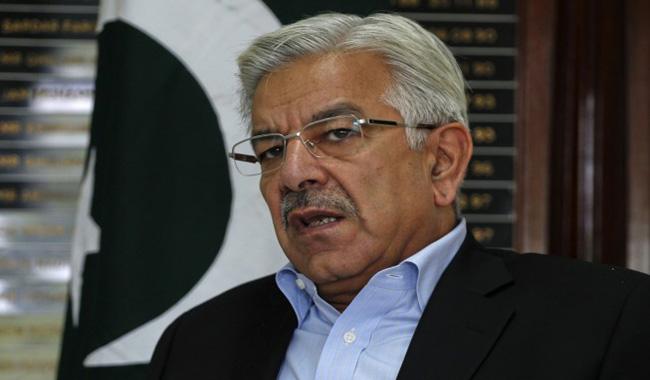 ISLAMABAD: Foreign Minister Khawaja Asif on Friday said that Taliban carry our sabotage activities from Afghanistan, denying the allegations leveled by US President Donald Trump, he said that Afghan government had admitted the Taliban's influence and 40 percent of its territory under their control.
Speaking on Geo News' program 'Naya Pakistan', the minister said that Pakistan had informed Afghan government that terrorists carried out attacks and other sabotage activities in our country from Afghanistan , adding that Afghan government had told that it had no writ on 40 percent of its territory which is stronghold of Taliban.
Asif said that terrorists need not bases in Pakistan as they have stronghold in Afghanistan and can freely operate there.
"They (terrorists) do not need bases inside Pakistan if they control such a huge area in Afghanistan," he said.
Referring to US President Donald Trump's speech, the foreign minister said that Pakistan needs not to evolve any strategy in this regard as Pakistan's commitments and sacrifices towards war against terrorism convincing US government, adding that Pakistanis fully aware of the possibilities of Trump's aggressive speech. Such statement might come from Trump to blame someone to cover up its failure in Afghanistan, he further added that they had already conveyed their viewpoint to power corridors in Washington.
While replying to a question, Asif said that they wanted to give a interim response to Trump's allegations and new Afghan policy, which would have input from the government, military and intelligence community, which is why it took a couple of days., adding that Pakistan had issued a comprehensive statement on the remarks of United States (US) President Donald Trump.
He said the nation and armed forces had rendered matchless sacrifices against terrorism, adding Generals and Commanders were martyred in war against terrorism.he further said that children of senior army officers and civilians were also martyred.