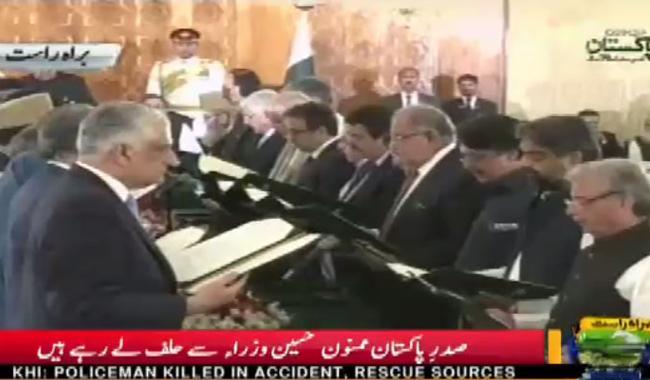 ISLAMABAD: The new federal cabinet that took oath today includes several new faces among them who were on the front line during the Panama controversy and defended the Sharif family on media and outside courts.
There are 28 ministers and 19 state ministers in the cabinet, which would meet later today.
MNAs Daniyal Aziz, Muhammad Tallal Chaudry and Mohsin Shah Nawaz Ranjha who have been vocal in support of Nawaz Sharif and criticizing Imran Khan have been made state ministers in the cabinet of Prime Minister Shahid Khaqan Abbasi.
According to the details, Khawaja Muhammad Asif is being given the foreign ministry, while Ahsan Iqbal would look after the Ministry of Interior. The PML-N did not officially announce the names and portfolios of the cabinet but sources said Senator Ishaq Dar would be the finance minister.
Chaudhry Nisar Khan refused to become a part of the federal cabinet which is a mix of old and new faces. However, Nisar would continue to play his active role in the party's decisions and organisation. This is the first PML-N cabinet since 1988 without Ch Nisar.
Senior PML-N leaders led by Nawaz Sharif met in Murree on Thursday for the second day to finalise the federal ministers and portfolios of cabinet members but remained undecided about taking a final decision on nominating Shahbaz Sharif for the prestigious slot of the prime minister till the completion of government's tenure.
Khurram Dastagir is likely to be the defence minister. Senator Mushahidullah will also be included in the cabinet. Marriyum Aurangzeb would again continue her responsibilities as minister of state for information.
The PML-N leadership also approved the name of Abdur Rehman Kanju, who was elected from Lodhran, for his inclusion in the cabinet as minister of state.
The consultative meeting also decided that the Central Working Committee of the PML-N would meet next week in which Nawaz Sharif would step down as the party president. He would be given the ceremonial title of party's founder or 'Rahbar'. It is expected that Shahbaz Sharif will preside over the party after Nawaz.