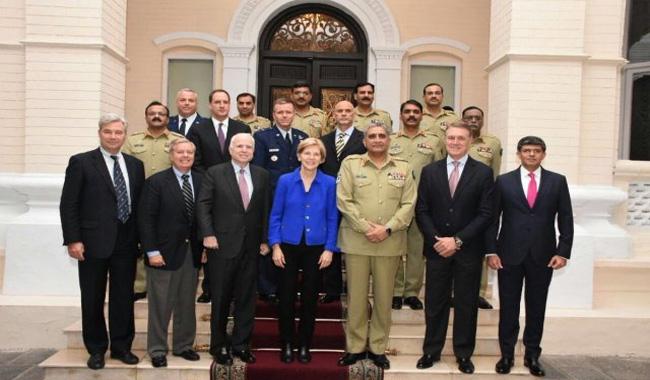 RAWALPINDI: A delegation of US senate's of Armed Services Committee led by Senator John McCain on Sunday met Chief of Army Staff (COAS) General Qamar Javed Bajwa, ISPR told.
US delegation who met COAS included Senator Sheldon Whitehouse, Senator Lindsey Graham, Senator Elizabeth Warren, Senator David Perdue, and accompanied by other senior members of staff, US Charge d' affairs was also among them.
The delegation was briefed about Pakistan's efforts to maintain peace in the region and security situation about Afghanistan and its bordering area.
The delegation was informed about Pakistan's positive steps and contribution towards peace and stability in region.
Army Chief General Bajwa thanked the US delegation for the visit and its efforts to forge a mutual understanding of the geo-political security situation and challenges ahead, ISPR statement said.
COAS reiterated that Pakistan has done its best despite constraints and shall continue its efforts for peace and stability. Pak-US security cooperation is a key factor in this regard, he added.
While Senator McCain admired and acknowledges Pakistan's sacrifices in war on terror and all positive steps Pakistan took to maintain peace and stability in the region and he agreed on importance of Pak-Afghan security co-operation and coordination in key issues.