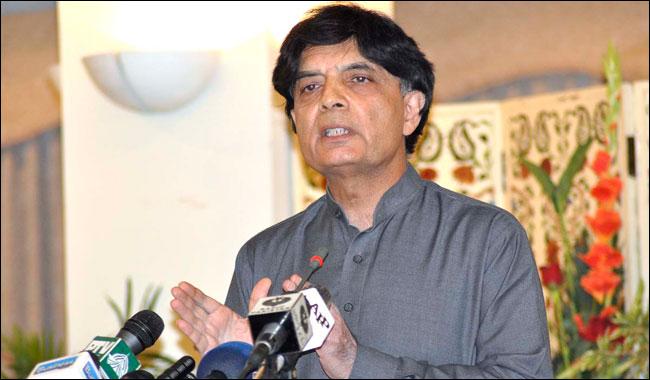 PESHAWAR: Interior Minister Chaudhry Nisar Ali Khan said that Indian spy Kulbhushan Yadav case would be taken to its logical conclusion in accordance with the law of the land.
Talking to media in Warsak, Khyber Pakhtunkhwa, Nisar said, "Pakistan will handle Yadav case as an espionage case." Yadav is an Indian spy and was involved in heinous crimes against Pakistan, the minister said and added that the RAW agent was convicted as per the country's law.
Earlier, addressing the passing out parade of FC at Warsak, the Interior Minister said Pakistan has achieved major success in war against terror due to sacrifices rendered by security forces.
Nisar said certain elements were on the payroll of Pakistan's enemies and receiving funds from them to stoke anarchy and unrest in the country. He said these elements were killing innocent people including children and women in the name of Islam.
Commenting on Pak-Afghan relations, Nisar said Pakistan desires cordial relations with Afghanistan as hearts of the peoples of the two countries beat together. The minister, however, said Pakistan will not accept the Afghan leadership to speak the language of our enemy India.